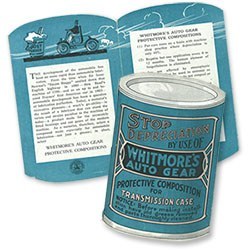 Whitmore is an established leader with innovative products and services that increase the reliability, performance, and lifespan of industrial assets.
Our products have helped keep the wheels of industry turning around the world since 1893 – from the Panama Canal and the Golden Gate Bridge to the London Underground and NASA's Apollo rockets and space shuttles, and on over 60,000 miles of rail line.
Since 2015, Whitmore has played a leading role in the Specialized Reliability Solutions segment of CSW Industrials, Inc. [NASDAQ: CSWI], a diversified industrial growth company. Trusted and reliable brands within Whitmore Manufacturing, LLC include Whitmore, Jet-Lube, Deacon, Air Sentry, OilSafe and KATS Coatings.
In addition, Whitmore:
formed a 50:50 joint venture, Shell & Whitmore Reliability Solutions, LLC, with Shell in 2021 to primarily serve rail and mining customers.
serves customers in 120 countries through a worldwide network of distributors.
is regarded as the industry leader in the development of eco-friendly high-performance products since the late 1980s.
is fully compliant with and monitored by the Texas Commission on Environmental Quality, the Texas Department of State Health Services, and the Environmental Protection Agency.
is an ISO 9001:2015 and ISO 14001:2015 Facility.
Fast Facts
Whitmore Manufacturing was established by Samuel Whitmore in Cleveland, Ohio, in 1893.
In 1904, Whitmore was awarded the contract to support mining lubrication for the digging of the Panama Canal. Whitmore products lubricated 48 miles of lock gates.
Since 1949, Jet-Lube has played a key role in the success of oil & gas, construction, water-well, and mining industries. Focusing on performance lubricants, anti-seizes, thread compounds, and sealants, Jet-Lube manufactures high-performance products for extreme environmental conditions.
From 1969 to 1991, Whitmore lubricated one of the largest dragline excavators in the world, "Big Muskie," weighing over 13,500 tons and standing 22 stories tall
Whitmore products lubricated the NASA crawler-transporter with payloads over 18 million lbs. that moved the Apollo rockets and Space Shuttles from their assembly buildings to the launch pads.