About Us
Established in 1893, Whitmore is a global-provider of innovative products and services that increase the reliability, performance and lifespan of industrial assets. We manufacture high performance lubricants, friction modifiers, application equipment, lubrication management systems, desiccant breathers and cleaners designed to meet the specific needs of each industry and application. Industrial customers worldwide rely on Whitmore to deliver the performance engineered solutions industry counts on even in the most adverse conditions and demanding environments.
Our relationships with customers, OEMs and Distributor partners have helped maintain our reputation for quality products, dependable service and attention to customer service. The Whitmore family of quality products and services are sold around the world through a service intensive distribution network committed to technical support and total customer satisfaction. Customers in a variety of industries choose Whitmore products for two simple reasons: the products are designed and manufactured to high quality standards, and they are available at a fair market value.
Made in the USA in an ISO 9001-2015 and ISO 14001:2015 Facility.
Vision - To be a global leader in providing innovative products and services which increase the reliability, performance and lifespan of industrial assets.
Mission - To provide such an exceptional experience in all we do, that those we serve will always consider us their First Choice.
Core Values - We are committed to serving others with honesty, integrity, respect and teamwork.
Operations
Whitmore is a Specialty Chemicals Subsidiary of its parent company, CSW Industrials.
Operations in the United States, United Kingdom and Canada. Our 225,000 sq ft Rockwall, Texas corporate facility includes a fully integrated manufacturing plant, state-of-the-art research center, training facility and corporate offices. Well-trained and competent employee-owners work at every level of the operation
About CSW Industrials, Inc.
CSW Industrials is a growth-oriented, diversified industrial company with industry-leading operations in three segments: Contractor Solutions, Engineered Building Solutions, and Specialized Reliability Solutions. CSWI provides niche, value-added products with two essential commonalities: performance and reliability. The primary end markets we serve with our well-known brands include: HVAC/R, plumbing, electrical, general industrial, architecturally-specified building products, energy, mining, and rail. For more information, please visit www.cswindustrials.com.
Products
Performance Lubricants
Mining & Industrial Lubricants: Whitmore greases and lubricants are recognized worldwide for their ability to reduce gear wear, minimize downtime, prolong equipment life and reduce operating costs.
Rail Curve, Switch Plate,Top of Rail & Rail Lubrication Equipment: Whitmore Rail lubricants reduce friction, fuel consumption, and noise, while extending rail and wheel life. Whitmore is the number one provider of rail lubricants in the U.S. and one of the largest providers in Australia and England. Rail equipment made by Whitmore includes trackside lubricators, retrofit kits, conversion kits and more.
Biodegradable & Eco-Responsible Lubricants: Our complete line of high performance biodegradable lubricants meets or exceeds industry standards and protects valuable equipment while protecting the earth.
Reliability Products
Desiccant Breathers: Air Sentry® is the gold standard in contamination control products that prolong the life of equipment, fuels, oils and hydraulic fluids.
Lubrication Management: OilSafe® is the recognized standard in lubricant handling and contaminate-free storage for a wide range of industries.
Cleaners & Degreasers: Water based, environmentally friendly, fast drying cleaners and degreasers designed to prevent rust, corrosion and damage for all types of equipment and vehicles.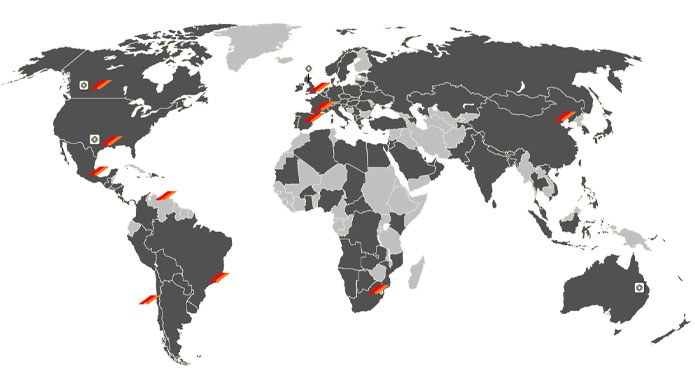 Global Distribution
Our family of products and services are sold worldwide through a distribution and MRO network committed to technical support and total customer satisfaction.

Find a Distributor