Spill Deck - 2 Drum
There's no need to worry about incidental spills on your factory floor. Spill Decks are the easiest to load with a low profile design and optional ramp. Each Spill Deck is designed for stand alone use or can connect with other Spill Decks for a customized work area.
• Tough, one-piece polyethylene construction will not rust or corrode.
• Low-profile Spill Decks become part of your factory floor, optimizing space for increased safety and efficiency. Makes drum loading a snap.
• Large sump capacity catches incidental spills.
• Multi-Purpose Work Ramp hooks onto any Spill Deck for easy loading.
• Heavy-duty removable structural foam grates for easy cleaning.
• Rolled-edge design helps resist cracking and warping.
Note: Spill Decks are forklift-ready while empty. *Stand not included
Dimensions: 53" L x 28.5" W x 5.63" H - 134.62 cm x 72.39 cm x 14.29 cm
Weight: 38.2 lbs. / 17.3 kg
Handling Capacity: 2400 lbs. / 1089 kg
Sump Capacity: 22 gal. / 83.2 liters
Regulations: EPA, SPCC and NPDES
Weight: 42 lbs.
specifications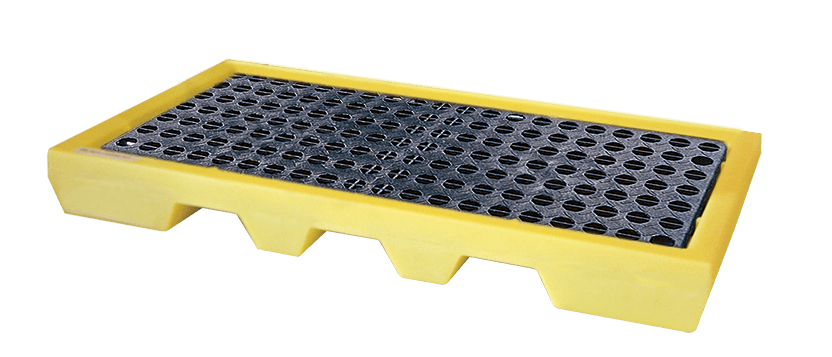 Product

Spill Deck - 2 Drum

OilSafe Product Type

Spill Control