Lustor™ Lubrication Storage Systems
Best-in-class lubrication programs depend on the methods applied for storing, transferring and applying lubricants to your valuable equipment, and the first step to help ensure clean oil enters your equipment is to filter it to an acceptable level. Lustor systems deliver the storage and dispensing benefits you trust, in cost-effective, compact and expandable units. Designed to protect every liter of oil from on-site environmental conditions, Lustor systems combine proper storage, filtration and identification to create an efficient and organized workflow. This, in turn, ensures that your lubricants remain dry and contaminant-free before they enter your equipment; saving you time and money.
specifications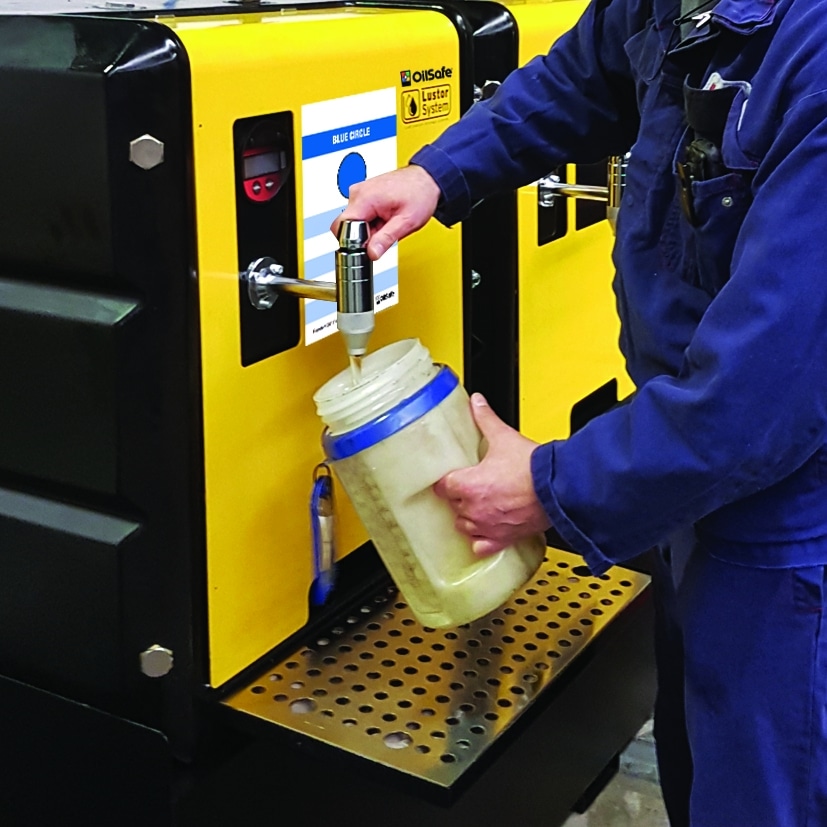 Product

Lustor™ Lubrication Storage Systems
OilSafe Lustor Lubrication Systems are specially designed for individualized and expandable lube rooms. (For constricted space, 500 Liter Systems are stackable.)

Three different system configurations are offered to fit your application needs and requirements, these are:
- Wall Mount (no reservoir) for use with drum or tote - Part #LST0310
- 65 Gallon (250 Liter) - Part #LST2310
- 130 Gallon (500 Liter) - Part #LST5310
---
Optional Upgrades/Add-ons:
- Custom Fluid ID Label (for front of system) - Part #PA22008LU
- 3 um or 20 um Filters
- Pneumatic 5:1 Pump
- Lustor Spill Containment - Part #LSTSCP
- Colorized Quick Connects
---
Frequently Asked Questions
The Lustor System. It's a modular approach, allowing endless combinations, sizes and configurations for Lube Rooms. The system is compact, sophisticated and yet simple to install and operate. Providing industry Best Practices in handling, filtering, storing and dispensing oil. There are two different types of systems, one where oil transferred from drums/barrels into the Lustor System tank and the second where the oil can be pumped or managed directly from drums/barrels.

Anyone who wants improved lubricant quality and safer oil handling practices. Whether using many different oil grades & types or a single lubricant, Lustor helps reduce ingression points and provides good identification to prevent cross-contamination in the event there are several lubricants, but even a single lubricant requires safer and cleaner oil handling practices.
Its compact design, ease of installation and operation, and simplicity of use.
By simplifying handling, storage and dispensing of lubricants, it provides World Class lubricant cleanliness. Poor lubricant quality accounts for more than 60% of equipment break-downs. Clean oil needs to start in the Lube Room, where oils are stored and dispensed, with practices that are simple to use and operate. The Lustor System is the foundation for better, cleaner oils for use downstream in a plant.

The rule most applicable to this situation is that the bund must have an oil storage capacity of 110% of the largest container stored on it. The Lustor System has specially designed bunds that meet this standard. It also has quick connects for oil access, which means less leaks and spills. Oil belongs in equipment, not on workspace floors.

Yes, the system is CE marked and meets the European standards for health, safety and environmental issues.
Each Lustor System can be used on oils up to ISO 680. The output flow rate will vary slightly depending on oil viscosities, temperatures and on your system configuration. The thicker the oil, the slower the flow. Also, it will be dependent on the level of filtration that you require. The finer the filter, the slower the flow. (We have not conducted tests for every viscosity oil in combination with every filter element size. Flow is generally not a problem. When the system is in off-line filtration mode it does not need stand by staff.
Typical output flow rate is 3.5GPM/13.3LPM with thinner oils like ISO 32 and .7GPM/2.7LPM with ISO 680 oils. Actual output flow rates will vary with system configuration, hose lengths, ambient temperatures and oil grades.
This is dependent of what your target oil cleanliness level is. The standard model incorporates 10-micron filter elements, and these are Beta 200 rated. If cleaner oil is needed, it may mean longer off-line filtering times to achieve target levels. We recommend starting with the 10-micron filter, then evaluating oil cleanliness. (We have several filter elements that offer varying degrees of cleanliness - 3, 10, and 20 micron.

Yes, the systems can be produced with a quick connector to attach wall mounted hose reels. When hose reels are connected, we recommend the 5:1 ratio pump option, it has more power to pump the oils longer distances.
No. ATEX compliancy is to ensure no electrical sparking can occur in the atmosphere, however the Lustor System unit does not have an electrical system.
Yes, however the entire reservoir, filter and all plumbing lines would need to be flushed out thoroughly, so cross-contamination does not occur. It's not a recommended practice to use the same pumping system on multiple oil types or grades.

Yes, all Lube Rooms should be designed with safety, ergonomics, cleanliness, and local environmental & regulatory standards in mind. They must comply with OSHA and other similar workplace standards. The space needs to be organized to make all lubricant storage and handling safer and more efficient, so there is less waste and spillage.

No, they are not difficult to install. The systems come complete, already QC and pumps pressure tested. The pneumatic pump will require an air supply set at 2bar/29psi. The pump will only start operating when the dispensing tap is opened or if the valves are in the fill or bypass position. The instructional manual needs to be followed to mount system on the retention bunds and to familiarize with the valve positions for oil handling.

Yes, but it is recommended the air supply has a main shutoff valve and air controller plus each individual system has its own shutoff valve. This gives the flexibility of shutting down system as and when required and meets OSHA and workplace safety requirements.

Yes, there are multiple functional tests performed on each system. The tanks are all leak tested prior to and after assembly. Multiple QC tests are performed during assembly, to ensure the highest quality and readiness for use. The systems are not tested with oils, to reduce chances of cross-contamination when commissioned.

Best Practice recommendations are to turn-over the entire reservoir or drum of oil 4-6 times before use. This provides multiple opportunities for the oil to pass through the high efficiency filters, ensuring the oil is clean and ready for use, prior to transfer into equipment. By design, all oil is passed routed to the filter, so all oil passing through the Lustor System is always filtered oil.

The desiccant in the breather will change colors, from gold to dark green when replacement is required. Since the systems are recommended to be installed in clean, dry and temperature controlled environments, you will also get a very long breather life.
These filter heads are non-bypass, as are all filter heads in the OilSafe line. This means, the indicator on top will show red, and flow rate will be reduced when the filter element is at the end of its usable life and service is required. Due to the high capacity of the oil filters, service is not a frequent event. We recommend checking the filters on a regular basis to ensure proper filtration and performance.

Request Information